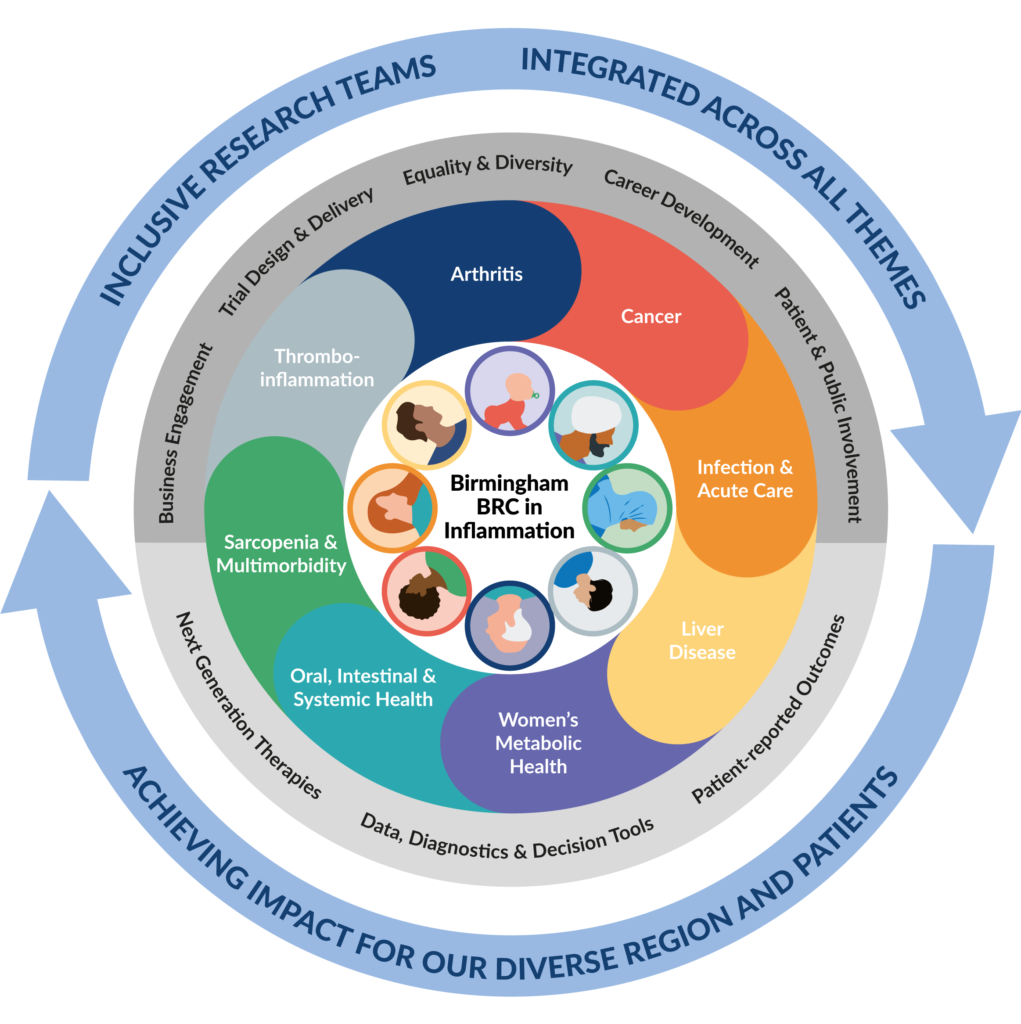 All themes:
Reflect existing partnerships, excellence and track record;
Include defined project portfolios translating anticipated/emerging scientific breakthroughs to deliver clinical benefits;
Focus on questions that reflect direct patient need and respect community diversity;
Are informed by patient/public partnership and prioritisation, from design to delivery;
Will deliver innovations leading to new candidate therapies, improved care approaches and commercialisable technologies;
Will generate data and publications to be shared openly, via FAIR-compliant data repositories and open-access publication.
We will apply common experimental approaches, tissue resources, technologies and data platforms to investigate mechanisms of inflammation across different themes, organs and illnesses. We will nurture links  between themes, identify multi-disciplinary opportunities and create new collaborations. This will ensure new innovations can be translated from our strong discovery science pipeline into tangible patient benefit.
Lay Summaries of NIHR Birmingham BRC studies
Full Study Title: A multicentre, international validation study of the i-scan endoscopic scoring system and a new histologic scoring system to define subtle mucosal inflammation in ulcerative colitis.
Lay Summary: A total of 307 patients with Ulcerative Colitis from 11 international Centres were included in the study. A total of 302 patients with complete datasets, which included histological and endoscopic data, were included in the final analysis. In this large prospective real-life international study, the recently developed PICaSSO * score correlated strongly with histological scores. It showed better correlation than the Mayo Endoscopic Score and Ulcerative Colitis Endoscopic Index of Severity (UCEIS) score in predicting histological remission. PICaSSO also detected histologic remission and predicted favourable outcome at 6 and 12 months.
Data collected in the study were also used to develop a new simple histological index for UC – the Paddington International virtual ChromoendoScopy ScOre Histologic Remission Index (PHRI). This was designed to be implemented into an artificial intelligence (AI) model to detect histological remission. PHRI provided excellent diagnostic accuracy, excellent correlation to endoscopic activity, minimal inter-rater variability and excellent prediction of long-term clinical outcome. An AI algorithm based on PHRI was able to accurately determine histological remission.
Further, we developed and validated the first VCE artificial intelligence system able to accurately distinguish in real-time endoscopic activity and remission in UC colonoscopy videos of both WLE and VCE. Our system predicted the underlying histologic activity and the occurrence of adverse clinical outcomes. We developed a computer tool to detect inflammation in adverse clinical outcomes. We developed a computer tool to detect inflammation in colonoscopy videos, both in white-light-endoscopy and virtual-chromoendoscopy of ulcerative colitis. Additionally our system estimates the histological activity and predicts clinical outcomes.
What is the impact of the study on clinical practice?
Endoscopic and histological remission are important targets to achieve in patients with Ulcerative Colitis. Various scores may be used to define disease activity. However, they can be complex to use and show inter-rater variability (scores differ between users). PICaSSO can accurately define endoscopic remission and detect histological remission in patients with UC. It also showed better inter-observer agreement than other scores. Therefore, PICaSSO maybe useful in clinical practice and clinical trials. The use of AI models for histological evaluation can complement and support pathologists' expertise. Our system accurately distinguished inflammation and healing of the intestine and clinical outcomes from colonoscopy videos. This is the first computer model developed to detect inflammation/healing using VCE through the PICaSSO score and the first computer tool providing endoscopic, histologic, and clinical assessment.
What were the limitations of the study?
The gastroenterologists and histopathologists involved in the current study were all experienced and further real-life study is needed to reproduce the results in less experienced specialists. Video quality may impact the system performance but by selecting high quality videos the performance improves further. All procedures were performed with Pentax platform, potentially limiting the generalizability of results. However, PICaSSO has been validated with other platforms too. Further validation in a large prospective study is needed and is ongoing.
*Paddington International Virtual Chromoendoscopy Score
Study publications:
• Iacucci, M et al (2021) An international multicentre real-life prospective study of electronic chromendoscopy score PICaSSO in Ulcerative Colitis, Gastroenterology 160 (5) p1558-1569.
• Gui, X et al (2022) PICaSSO Histologic Remission Index (PHRI) in ulcerative colitis: development of a novel simplified histological score for monitoring mucosal healing and predicting clinical outcomes and its applicability in an artificial intelligence system, Gut. EPub 16 February 2022.doi:10.1136/gutjnl-2021-326376
• Iacucci, M et al (2022) A Virtual Chromoendoscopy Artificial Intelligence system to detect endoscopic and histologic activity/remission and predict clinical outcomes in Ulcerative Colitis – ECCO conference 2022 and manuscript submitted